Wednesday, May 24, 2023

7-Eleven, Inc.'s Operation Chill® Program Returns for the 28th Consecutive Year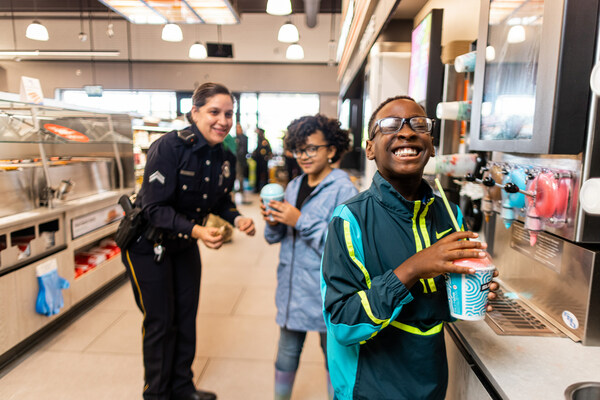 IRVING, Texas, May 24, 2023 /PRNewswire/ -- The chill is on this summer as 7-Eleven, Inc. kicks off another year of Operation Chill®, the company's signature community outreach program. Now in its 28th year, Operation Chill allows law enforcement officers to create positive connections by awarding a coupon to kids they see doing good deeds or exhibiting positive behavior – which can be redeemed for a free small Slurpee® drink at any participating 7-Eleven®, Speedway®, or Stripes® store. With the program new to Speedway, this summer will mark the first time kids will be able to redeem their Slurpee drink coupons at their local Speedway store.
"By bringing local law enforcement officers and neighborhood kids together, we are helping to create positive long-term relationships that are key to building thriving communities," said Marissa Jarratt, Executive Vice President and Chief Marketing & Sustainability Officer at 7–Eleven. "And with Speedway stores now participating in Operation Chill, we are thrilled to be bringing this popular community engagement program to even more neighborhoods than ever this summer."
This year, 7-Eleven will issue nearly 500,000 coupons to more than 1,300 participating law enforcement agencies across the country, that will, in turn, be rewarded to children in their local communities. Although the reasons for kids being rewarded vary – wearing a helmet while riding a bike, picking up litter, helping a neighbor or holding the door open – the result is the same: a FREE Slurpee drink and encouragement for being a great citizen. What's more, this summer, kids can use their coupon for new Slurpee drink flavors like Fanta Dragon Fruit Zero Sugar.
"Building relationships with the people we serve is integral to our role as law enforcement officers and a free Slurpee drink coupon is an easy and effective way for officers to build positive engagement with youth," said Officer Scott Peck, Columbus Division of Police. "We are grateful for the opportunity to participate in and support this great program. Programs like Operation Chill are key to helping us build stronger, safer communities and we are excited that Operation Chill will now be available at Speedway stores throughout our local communities."
Law enforcement agencies wishing to participate in the Operation Chill program can visit www.7-ElevenOperationChill.com where they can easily register online, request Slurpee drink coupons, and access best practices, tools and tips for making Operation Chill a success in their local communities.
The Operation Chill program was founded in Philadelphia with a goal to give law enforcement officers a positive way to interact with children and teens. Since its inception in 1995, Operation Chill has expanded to hundreds of cities across the country, donating more than 24 million coupons to U.S. law enforcement agencies in 7-Eleven, Inc. communities.
For a full list of law enforcement agencies participating in the Operation Chill outreach program, reach out to media@7–11.com.